METERING MONITORING & MAPPING
Slurry is often considered a problem for many farmers. However, if managed effectively it can be a cost-effective natural fertiliser that can help save on costly inputs. Metering the flow, monitoring the application and of course testing the slurry for nutrient value is an important part of the wider process of applying valuable slurry to the crop.
Krohne Optiflux Flowmeter
The Krohne Optiflux is the first step in flow monitoring. It can be fitted in the pipeline either close to the pump or on the applicator. It has two totalisers which can be reset and shows the flow rate, normally in cubic metres per hour.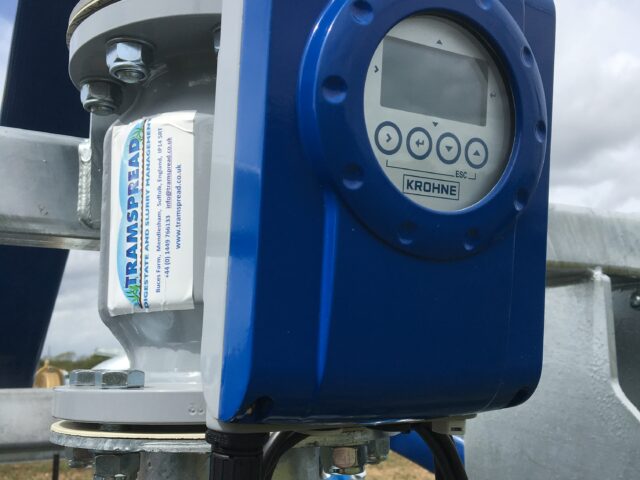 We can offer various options to monitor the flow of slurry through a flow meter:
A simple cost-effective entry level in cab slurry monitor which displays actual flow rate and total volume spread.
A mid range monitor aimed at contractors aimed because it can hold individual customer details. It displays flow rate (cubic metres per hour), application rate, forward speed, area covered, and the time and date of application. It is also backed up with software to enable the easy download of application data.
Tramspread Isobus Raven Box – the top of the range option enables the flowmeter to be connected to the tractor's Isobus system so the operator can read and download information from the tractor's screen. When GPS is fitted to the tractor, full field mapping, which shows application and slurry coverage, can be stored onto a memory stick, and downloaded onto the office computer.
The dangers of working with slurry are well documented. When agitated or pumped high amounts of gases are released very quickly the most dangerous of which is Hydrogen Sulphide (H2S). A high concentration knocks out your sense of smell, causing difficulty in breathing, then disorientation. After only a few breaths, collapse and death can occur.
Simply press the START/TEST button and the slurry gas detector is ready to use, providing two years of continuous, maintenance-free operation from the day of activation. The housing includes an integral concussion-proof boot, and heavy-duty, stainless steel, alligator style belt-clip. A large easy-to-read LCD shows detector life remaining, two alarm set points, and peak alarm exposures. Clip it to your lapel, pocket, or belt for unequalled, cost-effective protection.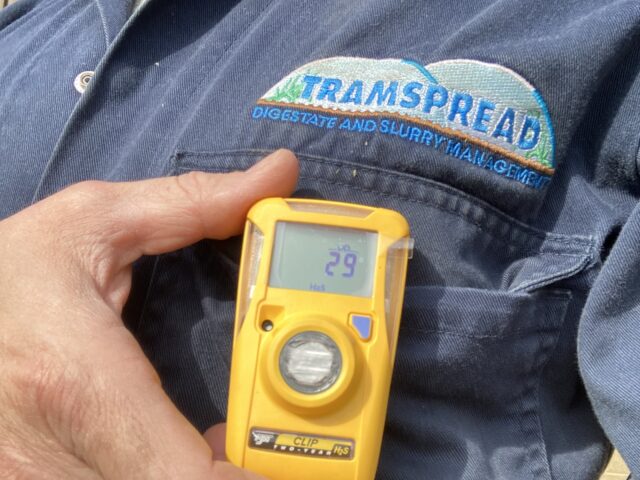 An Agros Nova liquid manure testing kit offer laboratory test quality results. The nutrient value of the slurry in conjunction with the speed of flow can then be used to ascertain the amount of N applied per acre. It also measures dry matter and phosphorus. It is quick and easy to use and will offer accurate results using dry or wet slurry samples.
The test takes five minutes and the result given in an easily understood format. Each kit contains the necessary chemicals for between 30 and 50 tests and replacement chemicals are available at a very reasonable price. All the equipment is contained in a strong carry case with full instructions.